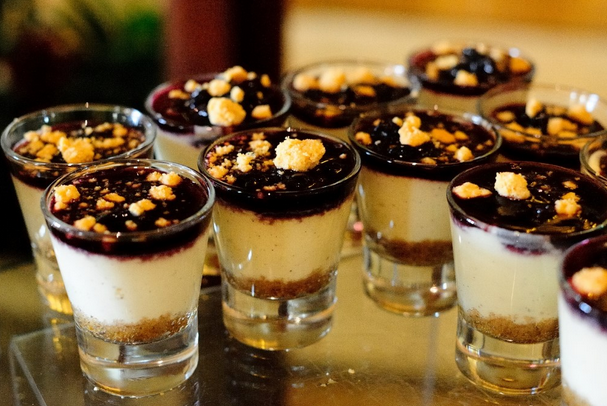 A tasty dessert never goes out of style. Knowing the right baked treats to put the time into making is key when putting on an event. Caterers have learned which cakes and desserts go best with which events. Wedding cakes and other formal delicacies are great for weddings.
There are a host of other desserts that are used by caterers on a weekly basis to take care of the sweet tooths of those who are planning or attending an event. Some go great with a glass of champagne, and others are light enough to enjoy after a big, hearty meal. Whatever the occasion is, there's bound to be a dessert to fit the style of any event being planned.
Best Desserts for an Event
Flan
Flans are a fan favorite here in South Florida. A reason for the popularity of flan among the Latin American culture is that it makes a tasty treat at many catered events. But people from all different backgrounds enjoy flan because of its unique texture and taste.
Crème Brulee
Creme brulee is another unique and interesting dessert, a favorite among those who savor its caramel-deliciousness. It's also a delicacy found at many weddings.
Dessert Shots
Dessert shots like the ones pictured above are becoming popular at certain trendy restaurants and among caterers who are bringing them to the events they provide the dessert for. These mixes of cake, fruit, and sometimes yogurt are great because they are easy to eat and go down easy.
Chocolate-Covered Strawberries
Some may be indifferent to the presence of chocolate-covered strawberries at an event, but these are an absolute favorite of many party-goers. Chocolate-covered strawberries are a staple of weddings, corporate parties, and any formal event that needs a tasty treat that's as delicious as it is beautiful.
Red Velvet Cake
Red velvet cake is a great option for those looking for something a little cakier. It's great for weddings as well, as its classy appearance and white icing make it blend in perfect with a bridal environment.
Cupcakes
Cupcakes are a popular choice that are a little more playful. They can also be eaten without silverware. For certain events cupcakes are a great addition to the spread of an event.
The right caterer can provide the dessert solutions to an event. Catering CC is the best catering service in South Florida. We focus on serving the areas of Boca Raton, Boynton Beach, Lake Worth, and Delray Beach. These wonderful areas are home to many events that occur on a weekly basis, and finding the right caterer to provide the spread and food for these events can be difficult without the right recommendation. When it comes to catering in Boca Raton and Palm Beach, give Catering CC the call at 561-704-5217!