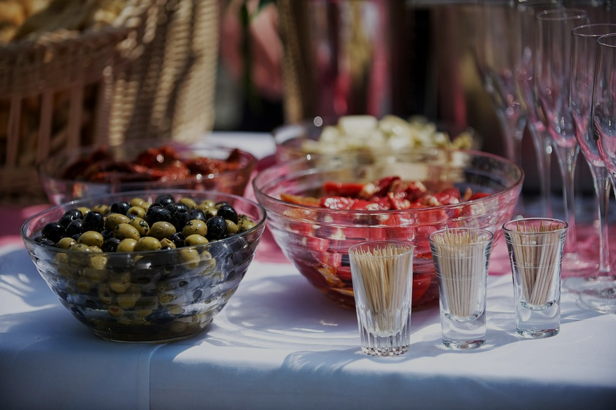 A buffet can be as casual or as high-end as you make it. Don't be afraid to have a buffet for a higher end event- they can be done tastefully and elegantly. At Catering CC, we like to do "themed" buffets instead of putting out a bunch of different types of food that might not necessarily go with together. Themed buffets are a great idea for bar/bat mitzvahs, corporate events, or any type of light-hearted affair. Here are a few of our favorite themed buffets we've put together over the years.
"Nuevo Latino"
Being a catering company based in South Florida, we like to offer food that has a Latin flair. Our Nuevo Latino buffet comes with all the classics: salad, mojo roasted chicken, slow roasted pork, picadillo, pan seared snapper with clam juice garlic sauce, shrimp, rice and beans, sweet plantains, crusty bread, and more.
"The Big Game"
This buffet is meant for super bowl type parties. It comes with all the "big game" staples like grilled all beef hamburgers, hickory smoked BBQ ribs, smoked BBQ chicken, potato salad, pasta salad, coleslaw, Boston baked beans, and sliced seasonal fruit. Game on!
"The Luau"
Perfect for an outdoor event, The Luau is full of delicious island flavors. It is served with grilled chicken seasoned with island chili peppers and spices, Kalua pulled pork, grilled mahi-mahi with mango pineapple salsa, Polynesian fried rice with coconut milk, banana fritters, and sweet potatoes with honey and toasted coconut. Your tastebuds will feel like they've gone on vacation!
"The Day Spa"
This themed buffet is for those looking for something nice, lite, and healthy. Your guests will feel great after eating these healthy plates we've prepared. We include low fat yogurt, cottage cheese, and trail mix with dried fruit, hummus and pita chips, a grilled veggie platter, tomato cucumber salad with dill, grilled chicken breast with papaya mango salsa, curried butternut squash and sweet potato, and more.
You can check out all of our themed buffet options and try to decide which one sounds the best for your next event. We have lots of options, so don't get overwhelmed! We will work with you to create the perfect event.