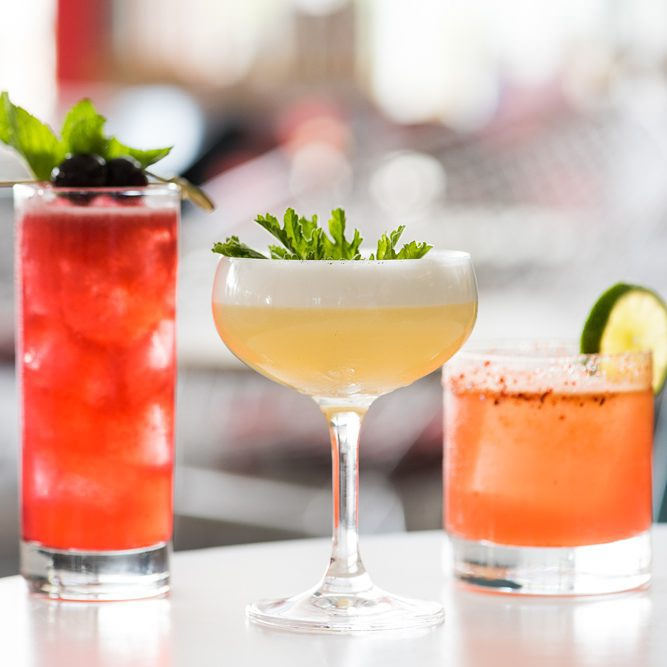 If we're honest, one of our favorite parts of going to other people's weddings is the booze, especially the cocktails. But after attending so many weddings (as all of your guests probably have), we can get a little burnt out on the cranberry vodkas and gin and tonics. Here, Catering CC gives you some fresh ideas for refreshing and creative cocktails to serve at your wedding. Or if you feel like outsourcing the ordeal to liquor licensed professionals, contact Catering CC to make sure the drinks are flowing on your big day.
Watermelon Refresher: If you're hosting summer nuptials, think about using a seasonal fruit like watermelon in your cocktails for an invigorating, fruity flavor. The Refresher calls for a strawberry-watermelon combo, a healthy splash of vodka and hints of basil, ginger and lime.
Champagne and Fruit: If you like it, then you should put some fruit on it. Champagne is obviously a wedding classic, but if you wanna spice up the tradition throw some soaked pears in the glass and put some skewered blueberries on top.
Margarita: Okay, this isn't exactly groundbreaking, but it's a tried and true favorite. Throw the wedding party of all parties by making your wedding's signature drink the ultimate in tequila-infused sippers and try variations like blackberry, grapefruit, lime, raspberry, pineapple, watermelon or cranberry.
Blueberry Mojito: This is totally allowed to count as your "something blue." This twist on a classic mojito features fresh blueberries instead of mint and is just as refreshing as the traditional rum cocktail.
Pineapple Rum Tea Punch: Southern belles, you found your new drink. Go punch bowl style at your wedding with this tropical concoction, served in pretty glass tea cups or flutes, of course. For the recipe, you'll need: pineapple, sugar, lime juice, water, rum, lime seltzer and pineapple sherbert.
Tiny Rum and Cokes: Rum and Coke might not be the most unique cocktail, but you and your wedding party can make it all yours by serving them up in mini glass Coke bottles for a sweet and cute wedding cocktail signature.
Rhubarb Raspberry Spritz: Feeling fruity, flirty and thriving? This pretty pink cocktail will have your guests in a tizzy. It's loaded with fresh rhubarb, raspberries and vanilla bean and is sure to transport you to a beautiful caribbean vacation.
Grapefruit Mimosas: This day-drinking classic is perfect for a summertime or spring wedding. It is superb at daytime weddings or for a bride who really likes her brunch drinks! Instead of orange juice, use grapefruit juice and make those mimosas pink, like a real lady drink.
Pineapple Peach (or another fruit) Vodka: Pour fruit-infused vodka into airplane bottles for a fun and portable indulgence or party favor. Want extra DIY points? Add cute labels to the bottles, a souvenir from a night no one will forget (but also can't really remember).