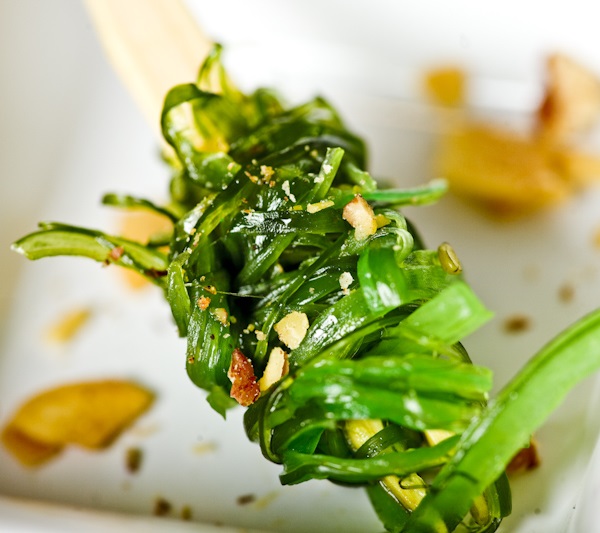 Hors d'oeuvres in French means "outside the work", meaning that they are not served as part of the main meal. Typically, they are served before a meal as an appetizer or between courses. They are meant to be a small bite that requires little use of cutlery, something to be eaten while socializing before a meal, perhaps walking around and mingling during cocktail hour.
At Catering CC, preparing hors d'oeuvres is one of our favorite aspects of catering. It gives us an extra opportunity to get creative and prepare beautiful small plates. Here are some of our favorites that we've prepared throughout our catering journey.
Seaweed Salad with Crushed Peanuts
This little bite packs a unique punch. The Asian influences are obvious but subtle enough to compliment any meal, and it's a super refreshing way to prepare the palate for the main course.
Mango Gazpacho Shooter
This one is always a crowd pleaser. We love how it incorporates a little bit of Chef Winston's Caribbean roots. It's sweet, zesty, and does what a proper appetizer is supposed to do- make you even hungrier for the main course.
Watermelon with Mint Feta-Bits
As you can tell, we love incorporating fresh fruit into our hors d'oeuvres. We use watermelons at their peak freshness, when they're bright pink and dripping with juice. Adding a bit of mint and feta creates contrasting flavors that compliment each other extremely well. Be careful- guests might go a little overboard on this one.
Spinach and Artichoke in a Wonton Cup
You might not associate dip with traditional hors d'oeuvres, but we find that it works well when you get a little creative. Keeping the essence of easy eating in mind, we put our dip inside its own little wonton cup, so all you have to do is pick up the cup and eat.
Guacamole Deviled Eggs
Deviled eggs are a staple appetizer for a lot of people, so we wanted to incorporate them in an unexpected way. Avocado and eggs for breakfast is one of our favorites, so we decided to bring that flavor to the deviled egg. The seasoning of the deviled egg mixed with the creamy and slightly spicy flavor of guacamole pairs so nicely together.
You can check out some of the other hors d'oeuvres we offer on our catering menu. If you like our ideas and want to have a party catered by us, give us a call! We serve Miami-Dade, Broward, and Palm Beach counties and would love to work with you on your next event.