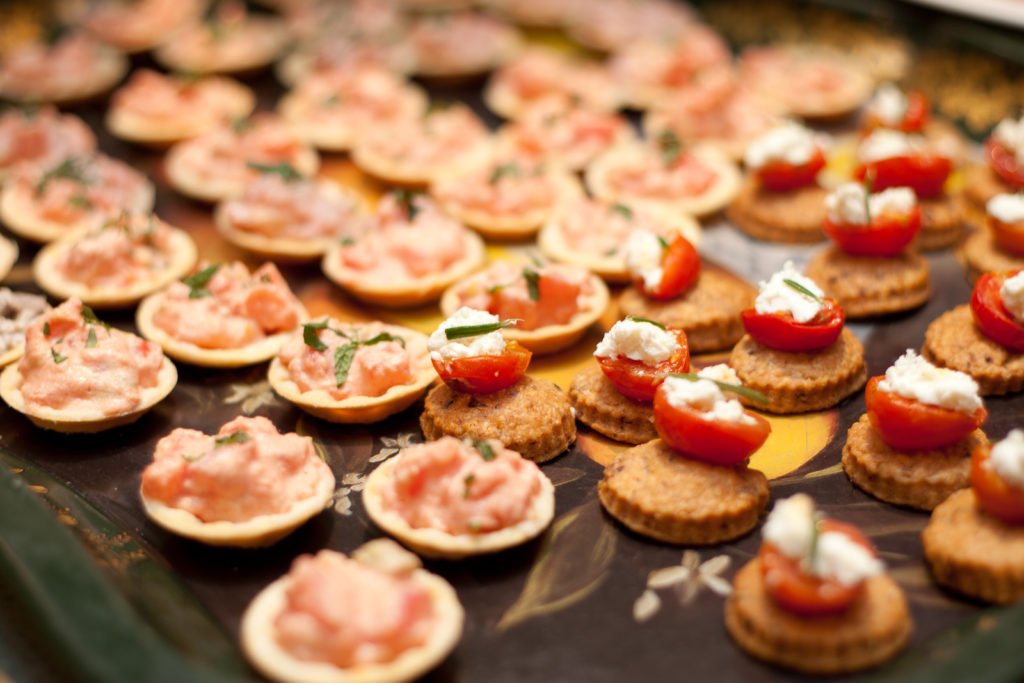 Ask any event planner and they'll tell you that the food you serve at your wedding is one of the last places you'd want to cut budget on. The presentation of the menu helps to set the ambiance, and the smell enhances the culinary experience, while the taste is, well, just plain delicious. Hors D'oeuvres are a great way to experiment with culinary themes for a smaller than cost than that of entree items.
Appetizers don't have to be limited to a sit-down dinner, either. Consider starting the celebrations with a pre-ceremony cocktail hour with small bites, or follow the "I dos" with a cocktail hour so guests can stay active while you and your wedding party pose for photos before the reception meal. Here are Catering CC's favorite bites to keep guests happy until dinner.
Red Potatoes With Tomato-Avocado Salsa
These colorful canapés would be delicious at a Latin-themed wedding. Offer them with a dry sparkler or a fruit-forward tequila cocktail. The appetizer is a labor of love- the potatoes are roasted until they're browned and a little crunchy, then topped with the fresh salsa and a dollop of a sour cream.
Lamb Lollipops
These lamb lollipops are juicy and addictive. The bright green star of the show is pesto made with mint, pistachios, and Pecorino Romano, rather than the typical trinity of basil, pine nuts, and Parmesan. Keep the mint-pistachio pesto slightly chunky so you can top it over the lamb chops like salsa. The mint-pistachio pesto that's on top of the lamb pairs wonderfully with buttery white wine.
Parmesan, Black Pepper and Thyme Shortbread
Instead of serving cheese and crackers, serve cheese crackers (with cheese if you want to go the more-is-more route), like these savory Parmesan and black pepper shortbread cookies. Tender, buttery, and flecked with thyme, they're elegant, unusual, and, most importantly, delicious.
Pimento Cheese and Prosciutto Biscuits
For a Southern-inspired appetizer, choose pimento cheese and prosciutto biscuits; they're both hearty and simplistic. Pimento cheese involves little more than a few swipes of a grater; drop biscuits are a dump-and-stir operation; the other ingredients are a mere matter of sourcing. Combine these all into a rustic finger food, and the result is a hearty appetizer far greater than the sum of their already dangerously enticing parts.
Antipasto Skewers
This version combines Italian-style chicken sausage, roasted peppers, basil, sun-dried tomatoes, and artichokes, but feel free to mix it up with bocconcini, peppadews, or your favorite salami. For a casual outdoor affair, pair these antipasto skewers with sangria.
Red Lentil Terrines
A spreadable red lentil terrine, savory with a hint of natural sweetness, pairs perfectly with salty Japanese rice crackers. Red lentil terrine might not elicit a delicious food reaction for you, so think of the vegetarian appetizer this way: it's like combining Japanese condiments with red lentils. The mixture is baked until it sets, which makes it a terrine; once it's cooled and served, the red lentil terrine spreads upon crackers like a paté.