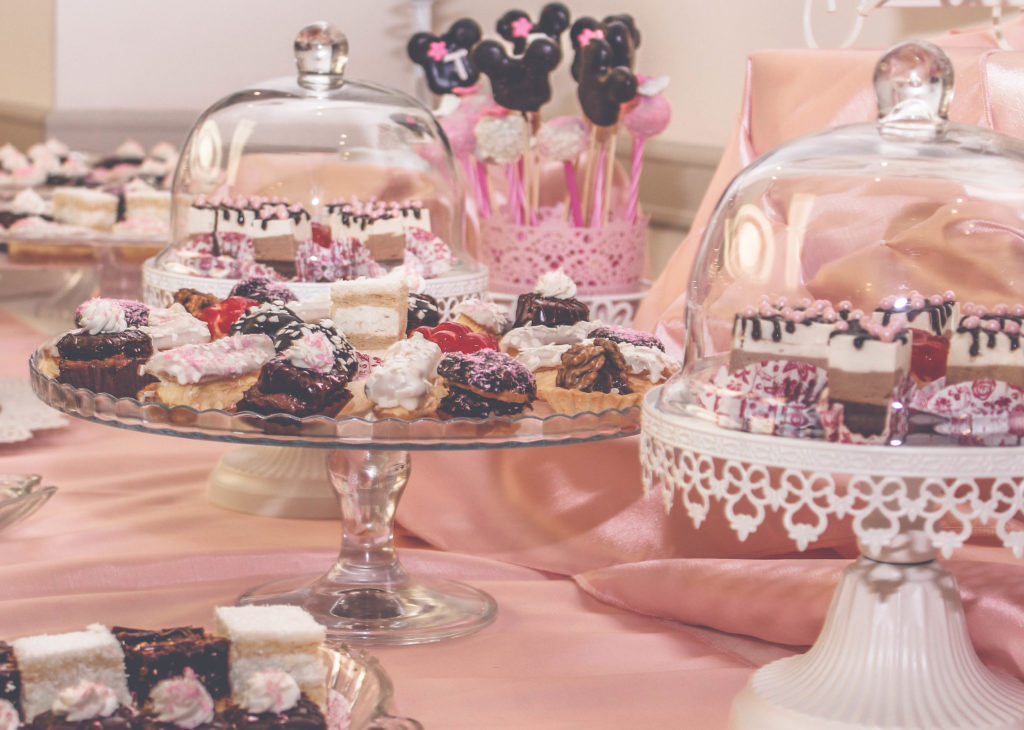 Dessert bars are becoming a popular choice for foodie couples looking for an alternative to the traditional wedding-cake stand and it's easy to understand why! Aside from the open bar, the dessert table will most likely end up being the most frequented spot of the night. Plus, it's open to guests of all ages. So what better way to treat your all of guests than with a stylish table full of post-dinner treats?
From rustic homemade tarts to elegant French macaroons, these desserts not only satisfy guests' sugar cravings, but they also add personality to the overall wedding. For example, many brides and grooms, as a nod to their heritage, create exotic dessert tables, such as a Mexican Pan Dulce Bar, where guests can take home assorted native pastries and cookies or a Persian tea station that displays a vibrant array of traditional sweets, fruit, and Iranian teas. Some crafty couples use a vintage suitcase as their cake stand and a large distressed windowpane as a backdrop for their sweets table. If you want something a bit more statement-making, try blowing up over-sized gold foil letter balloons for an eye-catching backdrop to your sweets table.
However, if you still want to serve a traditional wedding cake, you can still incorporate the trend into your big day. Instead of a full dessert station, go for a coffee and tea bar with cute touches like a printed banner and hanging burlap.
From inventive pie stations to candlelit donut bars, find out you how can end your special day on a sweet note by reading the ideas below:
Waffle Sundaes:
Breakfast food is an all-around crowd-pleaser that can be served at any time—especially when it's a la mode. Offering different ice cream flavors and toppings like berries, sprinkles and hot fudge will appeal to every guest's taste buds.
Pies on a Stick:
Anything you can eat on a stick is an idea we can totally get behind. Pies of all different flavors, like apple, blueberry, chocolate or banana cream, will guarantee there's something for everyone at your wedding, and their fun-size portions allow your guests to try more than one flavor.
Berry Parfaits:
Fruit and yogurt parfaits are a great go-to dessert for a healthy (and gluten-free!) option. Guests can create their own parfait and add ingredients from a fruit and yogurt bar, or if you'd like to encourage more mixing and mingling during the reception, have attendants pass them around to keep the energy and movement levels up.
Cake Pops:
Cake push pops are easy to eat (aka guests can eat with one hand while they're getting down on the dance floor), they look super-cute on display and they take the idea of a cake pop to the next level. Color coordinate the frosting in the push pop as a nod to your wedding color palette.
Doughnuts:
Glazed, frosted or plain old cake, everyone loves a good doughnut. Reach out to a local bakeshop to try and get the freshest, yummiest treats for your reception. Display them on tiers to mimic a multitiered cake, or go for something a little different, like a doughnut wall or mounds of little doughnut holes.