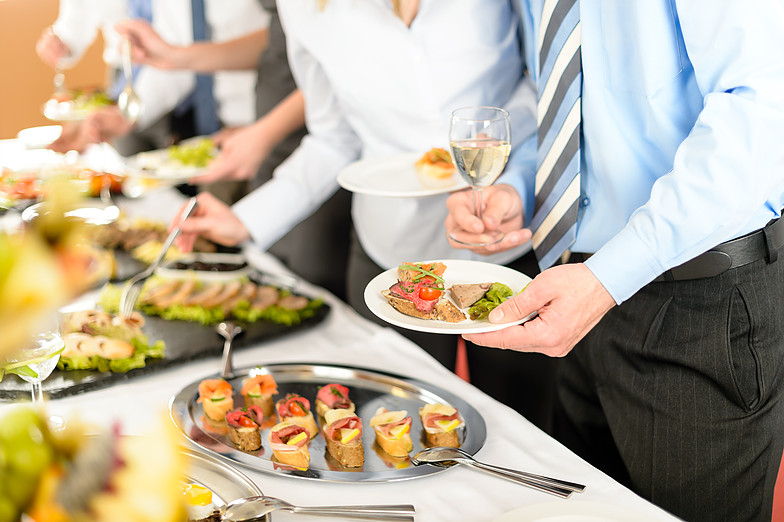 So there is an event coming up, and you, of all people get to be in charge of the food. You may think, "oh it's just food, no big deal", but it is a big deal! You will always remember that party you went to where the food was anything less than satisfactory. You might not so much remember the party that had those decorative flowers you didn't like. Food is what brings people together to an event, so what and how it is served, is crucial when it comes to choosing a caterer. There are huge differences in what you should look for in caterers depending on the event.
Wedding Caterers
Choosing wedding caterers are usually the trickiest. You want to be sure the food is phenomenal and the presentation is impeccable. When it comes to choosing the right one, stay away from those companies that do "every type of catering". You want the company you choose to specialize in weddings. We all know that it wasn't just any old West Palm Beach caterer who catered Sofia Vergara's lavish wedding at the Breakers. To make things easier, the caterer you choose for the wedding, should come with full service. Meaning staff, clean up, table setting, and bar service. Having different companies handle that can cause chaos and make it more of a head ache for you.
Party Caterers
The catering you choose for a party should be fun and simple. Focus more on the latest trends in catering, rather than a nice big sit down meal. For example, having a wide variety of hors d'oerves and sick Bloody Mary bar with crazy and unique garnishes promotes more of a party environment. Look for a party caterer that focuses a lot on signature cocktails and your guests won't be disappointed.
Corporate Catering
Catering for a corporate event is probably the easiest. Since there are so many variations of people in a work place, the easiest and simplest thing would be to have your corporate event catered by a local restaurant or at the restaurant itself. Make sure the menu you choose for the event has a steak, chicken or vegetarian dish. If you plan to have it at the restaurant, make sure you pick a restaurant that has a private section for your party or willing to close off a portion of the restaurant.