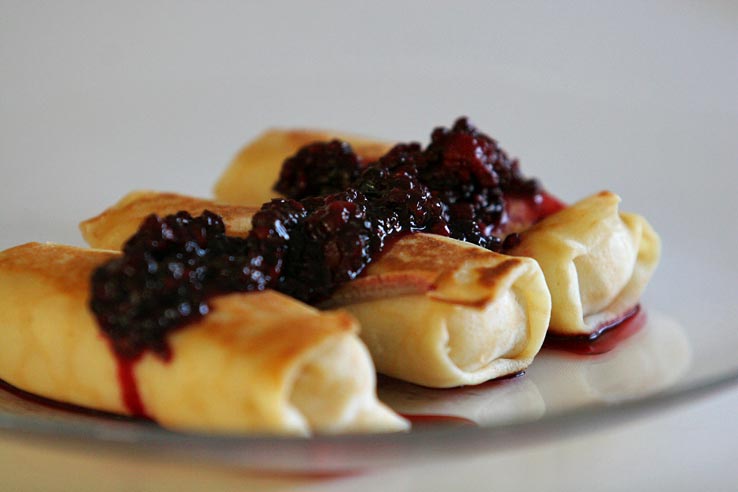 When you are having a big event, you want the special occasion you are having to be the most memorable and enticing time possible. If your event is held during the morning and you require meals to be provided by a professional team of caterers, then you should take the time to look over some of the most popular breakfast menu ideas so that you can have the best event possible.
Popular Breakfast Menu Ideas
French Toast with Cinnamon and Fruit
What makes French Toast a die-hard favorite? Is it the fact that since the beginning of time people just haven't been able to get enough of good, old-fashioned doughy bread, or do people just have a knack for their childhood favorite breakfast with syrup on top? Either way, you can't help but love this classic with cinnamon powder on top. But wait, it gets better. This treat is sure to be a hit because fruit can be scattered on each slice of French Toast in a colorful order, making it so that strawberries appear on one piece, oranges on another, bananas on another, kiwi on another, blueberries on another, and raspberries on another.
Broccoli and Cheese Quiche
A popular choice for catering services to provide at events like weddings, birthday parties, and other gatherings during breakfast is a broccoli and cheese quiche. The main feature that makes this choice so appealing is the cheesy and fluffy taste. A quiche should have volume and not crumble. If it's too moist and gooey, it may not be appetizing but if it is overcooked, then the crust may be too hard. Proper cooking is extremely important for a phenomenal quiche, especially a broccoli and cheese quiche because it is everybody's favorite!
Eggs Benedict
Of course a classic Eggs Benedict is a breakfast choice for catered events in the morning because — obviously — it is a classic!  With an English muffin and eggs, this is sure to fill up any individual looking for the regular filler. This typical food may not be the most exquisite, but it sure can be dressed up to look elegant with spices and cheese. Most people don't crave the wild and ravenous but rather want their favorites and what they know will never go out of style!
Cheese Blintzes with Berries
Mmm, Mmm! If you have a sweet tooth, beware! Cheese Blintzes are one of the tastiest breakfast treats that both hosts and guests of catered affairs love to have on the catering menu. These delicious breakfast foods are thin rolled up pastries that are similar to crepes, but they have different types of cheese, such as ricotta cheese and cream cheese filling inside. Then comes the berries! This adds sweetness to an already tasty sweet treat. Who doesn't love a little bit of sweetness in their life?
These breakfast options for a catering event are sure to spice any event up — or better yet, sweeten the morning up and make the event even more chipper than it would have been! When you love your breakfast options and have personally chosen what you wanted on the menu to be catered for your special event, then you can feel like you put your best effort into making the event all that it could be and more!
Breakfast Catering
Catering CC is an incredible and leading catering service that offers these outstanding breakfast options, as well as even more! In addition to this, Catering CC offers an entire continental breakfast, breakfast buffet, and omelet station option! Not only does Catering CC offer breakfast options for catering, but Catering CC does catering for all meals and times throughout the day for any type of occasion and event you need! Call today at 561-704-5217!